Chapter 7 Bankruptcy Attorneys In Greensboro North Carolina

Considering to declare personal bankruptcy is a serious decision that requires the input of experienced Greensboro-based bankruptcy attorneys. Perhaps you are considering declaring bankruptcy because you're suffering from high credit card bills or are repaying a loan with a high monthly payment. Before making this critical financial decision, you must understand your options and what questions you need to ask.
Contact a Chapter 7 Bankruptcy Attorney Today
Discuss your options and protect your assets with a Greensboro-based bankruptcy law expert!
What Does Chapter 7 Bankruptcy Mean?
Figuring out what type of bankruptcy is right for you can be downright overwhelming. However, if you suffer from high credit card bills, student loans, personal loans, or other types of debt, Chapter 7 Bankruptcy might be the right path. People choose to file chapter 7 bankruptcy because it provides debt relief while still protecting their assets. For example, it may allow you to restructure your loan payments without having to give up your car, house, or other valuable possessions.
How Do I File For Chapter 7 Bankruptcy In Greensboro, NC?
While Chapter 7 bankruptcy is similar across the country, the eligibility requirements may differ. In the case of our Greensboro-based clients, bankruptcy is typically reserved for consumers or households with limited income. During the course of the filing process, debtors must list all properties, assets, and debts. A trustee is then appointed to each case and placed in charge of collecting, assessing, and selling assets for the benefit of creditors.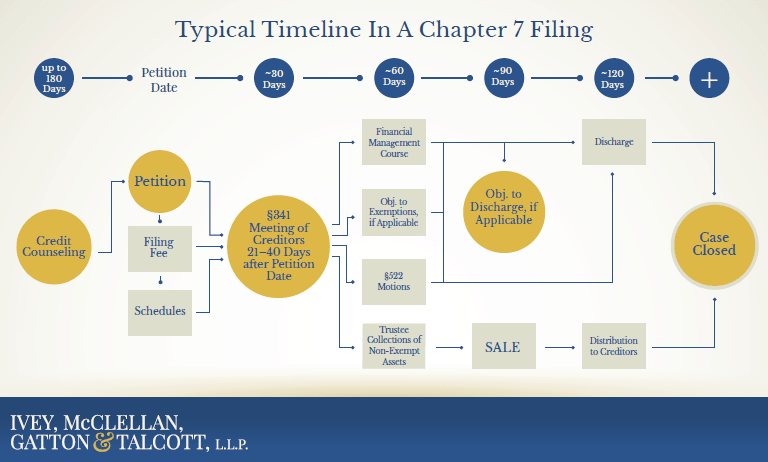 Why Do I Need An Attorney That Specializes In Bankruptcy?
Bankruptcy laws and codes are complex and can vary based on location. This is why so many Greensboro residents come to us when filing Chapter 7 bankruptcy. When done correctly, filing chapter 7 bankruptcy relieves you of the majority of your debt. This means you are given a clean slate to start over without the burden of various obligations, including:
Credit card bills

Medical bills

Mortgages

Car payments

Our Greensboro Based Chapter 7 Bankruptcy Attorneys Will Help You File
To apply for Chapter 7 bankruptcy, a series of official bankruptcy documents must be completed on behalf of the debtor, including a means test. Petitions are then filed with the U.S Bankruptcy Court. Below is an outline of a typical Chapter 7 Bankruptcy filing process. This is a broad overview and may vary from person to person.
One of our skilled Chapter 7 bankruptcy attorneys will review your case and offer professional guidance to learn more about how to file this type of bankruptcy in Greensboro. We have assisted countless clients in qualifying for Chapter 7 bankruptcy in North Carolina, filing the required documents, and eventually wiping out debt.
Contact a Chapter 7 Bankruptcy Attorney Today
Discuss your options with a bankruptcy law expert!
Our Bankruptcy Attorneys We Walk With You Through Exemptions
Federal exemption and state exemption rules apply when filing for Chapter 7 bankruptcy. Some states allow the option to choose between federal exemptions or using the state's guidelines. Other states strictly adhere to their state exemption guidelines. To learn more about which exemption rules apply to you, talk to a Chapter 7 bankruptcy attorney in Greensboro today.
In addition to listing all assets, debtors may declare a particular property as "exempt" from collection (commonly referred to as exemptions). An exemption is the value of an asset in dollar amounts that a trustee cannot seize. Exemptions are not available to business entities, and all purchases in a Chapter 7 case are available to creditors. Existing exemptions and how they apply vary from case to case. However, most individuals claim nearly everything they own as exempt, depending on the amount of equity held, including:
Homes

Cars & Vehicles

Household Furnishings

Retirement Accounts

Wildcards

A wildcard exemption applies to anything else a debtor may own, such as bank accounts. Individuals who do not own anything beyond their exemptions are coded as a "no-asset case," and trustees do not collect any assets. Consult with your

bankruptcy attorney

to determine if bankruptcy exemptions cover your assets.
Ivey McClellan Understands North Carolina Bankruptcy Limitations
It's important to understand that not all debt is discharged through Chapter 7 bankruptcy. Debts that may not be eligible for discharge include:
Student loans

Some tax debts

Child alimony

Debts incurred through fraud

Debts resulting from drunk driving accidents
Chapter 7 bankruptcy can discharge most unsecured debts, including credit card and medical bills. Debtors also have the opportunity to discharge secured debts like car loans. For example, a debtor may surrender their car to get rid of that debt. However, Chapter 7 does not help with some tax debts or keeping property with out-of-date loan payments.
For these kinds of debts, individuals may seek relief under either Chapter 13 or Chapter 11. Both are forms of a reorganization rather than liquidation that arrange a manageable payment plan to resolve debts. Contact a trusted Chapter 7 bankruptcy attorney to understand what your debts can be forgiven.
How Do I Find Out If I Qualify For Chapter 7 Bankruptcy?
To qualify for Chapter 7 in North Carolina, many courts will often look at your household income. If it falls below your state's specific median income level, then you most likely qualify. However, if you are above that threshold, then you must pass the 'means test'. A means test is a challenging and complicated formula that evaluates a debtor's income over the last six months. If a debtor's income is deemed too high, they may be ineligible to file Chapter 7 bankruptcy.
In these situations, the U.S. Bankruptcy Code states that debtors who can afford to repay some debts file for a Chapter 13 bankruptcy instead. As a result, debtors would be considered able to financially reorganize financial assets and obligations instead of being eligible for liquidation.
Work With A Qualified Chapter 7 Bankruptcy Attorney
The attorneys at Ivey McClellan have years of experience working with bankruptcy Chapter 7 cases in North Carolina. Our expertise helps Greensboro residents like yourself understand the complex process and avoid common mistakes that can lead to disqualification.
To find out if you qualify for Chapter 7 in North Carolina, contact us today to arrange a confidential consultation with our Chapter 7 bankruptcy attorneys. We will guide you through each step of the way to help you seek financial relief and recover after bankruptcy proceedings.